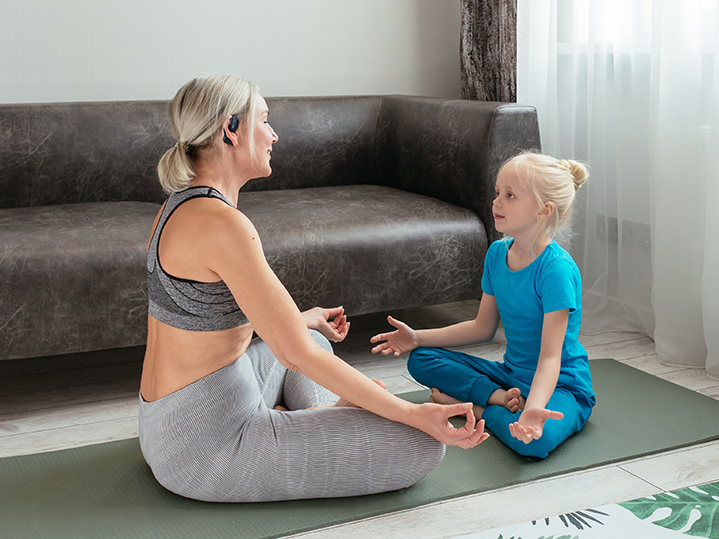 Are you searching for a unique Mother's Day present for your active and music-loving mom? Look no further than the olaladance Wearable Stereo.
For Moms with an active lifestyle
These earbuds are designed with open-ear technology, providing a safe and comfortable way for moms to listen to content during outdoor activities like running, biking, or hiking. With this feature, moms can stay aware of their surroundings, ensuring their safety while enjoying their favorite tunes or podcasts.
In addition to the safety and convenience features, the oladance Wearable Stereo is also designed with comfort in mind. The titanium wire frame and soft silicon material ensure a comfortable fit, suitable for moms with sensitive skin.
For busy Moms
The oladance earbuds also come with a smart control function, making them easy to operate and customize according to individual preferences. Busy mothers can use the earbuds without hassle, allowing them to enjoy their music and stay connected throughout the day.
Furthermore, the oladance Wearable Stereo has a 16-hour longer battery life, allowing moms to stay connected and entertained without interruptions. For mothers who need to juggle many tasks throughout the day, this feature brings them one less thing to worry about.
For music-loving Mons
But what about the sound quality? The oladance Wearable Stereo has dual 16.5mm dynamic drivers that provide an immersive audio experience that rivals the quality of a home 3D audio system. The sound is crisp, clear, and powerful, making it a great choice for moms who are picky about sound quality.
oladance Wearable Stereo is the perfect Mother's Day gift for active moms. It provides a safe and comfortable way to listen to content during outdoor activities, with the added bonus of exceptional sound quality and longer battery life. The smart control feature and comfortable design make it a hassle-free choice for busy moms on the go. Give the gift of convenience and uninterrupted entertainment this Mother's Day with the olaladance Wearable Stereo.